The latest release of ACT Research's For-Hire Trucking Index, with June data, showed a slowing in volumes, pricing moderating at a high level, and a still-strong supply-demand balance.
Click Here to Read More
"June's Volume Index reading declined, but continues to represent a still-healthy level, following an upwardly revised May. The fundamentals of the freight cycle remain clearly positive," said Carter Vieth, research associate at ACT Research.
"As volume growth declined, ACT's For-Hire Pricing Index also moderated at a high level, ending six months of consecutive increases," he continued. "That said, June's reading is the eighth best since the survey's inception in June of 2009. Developments in the driver market and freight volumes will be key to the near-term rate outlook. While spot rates may come under pressure from driver re-entry, underlying equipment capacity tightness supports a positive contract rate outlook."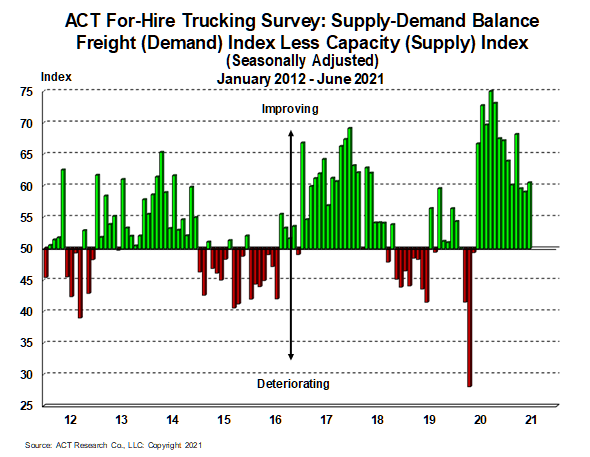 Regarding the supply-demand balance, Vieth noted, "While the bloom is off the rose in terms of the astronomical reading from a year-ago, June's print continues to establish a new plateau that only looks weak in comparison to that year-ago period. Class 8 retail sales are constrained by tight inventories and unmet production demand due to parts shortages, so equipment capacity is lagging demand. With some structural driver issues likely to outlast the pandemic and a generally positive freight outlook, we do not expect the market to loosen too quickly."